Our Mission
To teach highly motivated students the discipline and craft of massage therapy and wellness for their personal growth and the wellness of others.
To help students graduate, attain jobs and provide exceptional services within the community as massage therapists.
To provide therapeutic massage to clients to promote health and wellness.
All instructors and staff at Therapeutic Massage & Training Center are graduates of this school. We believe that the core purpose of our teaching and performing massage therapy is to help people to release muscle pain and promote healing.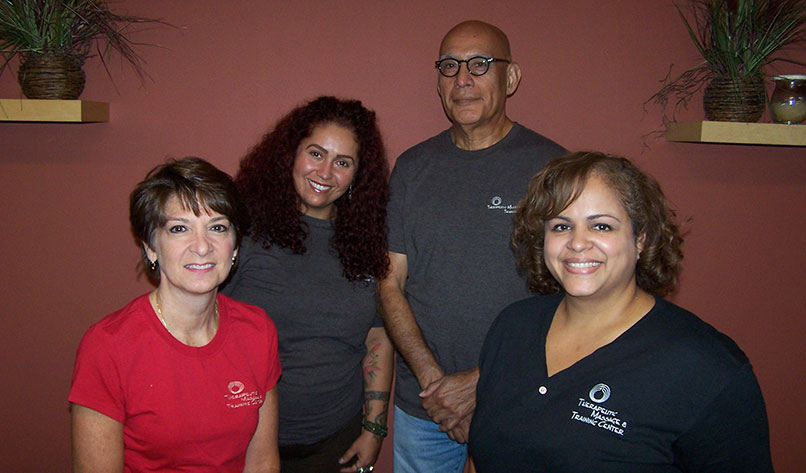 Arlene Reardon, Owner | President | Director | Instructor | Licensed Massage Therapist (LMT)
Arlene is a New Jersey Licensed Massage Therapist who performs deep tissue and therapeutic massage with Quantum Touch healing energy and sound therapy (tuning forks). She promotes client relief from stress and pain. Arlene has owned The Healer Within, Inc. since 2003, through which she educates clients and students in techniques to release trauma and raise thoughts, emotions, body and spirit to empowered, high-energy levels to manifest health and abundance in their lives. This includes education to heal illnesses through natural methods. Arlene has performed massage therapy most of her adulthood and became a licensed massage therapist in 2007. Arlene also has more than 25 years of corporate experience that she employs in the operation of TMTC.
Contact: Therapeutic Massage & Training Center – Info@MassageTrainingCenter.com
The Healer Within – Arlene@TheHealerWithin.net
Christopher Reardon, Owner | Vice President
Christopher supports TMTC for business development, human resources, marketing and as our writer/editor of our website, curriculum, press releases, promotional materials and brochures. Chris brings more than 30 years of corporate experience.
Contact: Info@MassageTrainingCenter.com
Millie Akbar, Assistant Director |Instructor | LMT
Millie is a NJ Licensed Massage Therapist. She is an alumni of TMTC and serves as a hands-on somatic massage instructor, as well as our Anatomy, Physiology, Pathology and Kinesiology instructor. Her specialty classes include Trigger Point, Deep Myofascial Release, Pre-Natal massage, Hot Stone and hydrotherapy. In her practice, Millie customizes her therapeutic massage to fit her client's needs using modalities to provide pain and stress relief.
Contact: Info@MassageTrainingCenter.com
Theresa Bohnyak, Anatomy, Physiology & Pathology Instructor | LMT
Theresa is a New Jersey Licensed Massage Therapist and graduate of TMTC. She brings 12+ years of educating students in Biology in the public school system and she now instructs our students. She is performing therapeutic massages on clients in the spa setting.
Contact: Info@MassageTrainingCenter.com
Cecile DoAmaral, Office Manager | LMT
Cecile is a NJ Licensed Massage Therapist. Cecile has her own practice Elemental Healing with a focus on deep, therapeutic intuitive massage. She supports TMTC, the Director, students, and instructors as office manager and coordinator. She also is our recruiter for educating and registering future students. She is an excellent massage therapist who assists mentoring students.
Contact: Info@MassageTrainingCenter.com
ALL INSTRUCTORS ARE TMTC GRADUATES and LICENSED MASSAGE THERAPISTS.
—————- SPECIALTY INSTRUCTORS ——————
Jon Kammer, LMT | Specialty Instructor – Myofascial Release & Craniosacral
Jon is a NJ Licensed Massage Therapist who focuses on helping his clients become pain free through myofascial release therapy and craniosacral techniques, and soft tissue mobilization involving the mind, body and fascia. Jon learned from John F. Barnes, PT, and has evolved his own whole-body approach with his clients.
Anna Winkler, LMT | TYT | AyurLC | Specialty Instructor – Thai
Anna is a New Jersey Licensed Massage Therapist, practicing Therapeutic Integrated Massage since 2014 and Thai Yoga Bodywork since 2001. She is a certified Ayurvedic Lifestyle Consultant from Kripalu School of Ayurveda first graduating class of 2006. She works with Young Living Essential Oils and Raindrop Technique.
Elyse Breit, LMT | Specialty Instructor – Certified Shiatsu Practitioner & Asian Theory
Elyse is a NJ/NY Licensed Massage Therapist with 25 years of experience in massage therapy and Shiatsu. She earned her Shiatsu Practitioner certification in 1991 and graduated from the Swedish Institute in NYC in 1993. She specializes in myofascial release and Shiatsu therapy. She teaches Intro to Oriental Medicine and Intro to Shiatsu Therapy at TMTC.
Jason Boruta, | Specialty Instructor | LMT
Jason is a New Jersey Licensed Massage Therapist. He focuses on clients needing rehabilitation techniques in their therapeutic massage. These include Myofascial Release and deep tissue techniques for sports massage. He became a massage therapist in 2015. Jason instructs specialty classes for sports massage, postural analysis, myofascial release, and PNF at TMTC.
These are people and businesses that support Therapeutic Massage & Training Center staff, students and clients:
New Jersey State Application for License
New Jersey Identogo Fingerprinting
NJ Division of Education – Onestop Online Consumer Review
This is NJ State's website for education and vocational schools. Check out student's reviews of TMTC:
Click any of the Resources below to go to their website.
Dr. Hagman is a wonderful chiropractor who works closely with TMTC to provide support and relief to clients, students and instructors. His technique is gentle and effective.
Dr. Carnucci can assist with any pain and specializes in sports chiropractic and rehabilitation. He works with TMTC to provide support for our clients, students and instructors.
Stephen Pollitt has created an amazing, simple method for improving your health by raising your energy levels above pathogens and ill health, allowing your body, mind, and spirit to heal and thrive. Author of Heal Thyself, he is an wonderful person and healer. It has been my (Arlene Reardon's) pleasure to know Stephen for over 16 years. He is an inspiration to many healers on earth doing the work to help others. (A healer is someone who heals his/her-self.) I have personal training and experience with Source Energy Medicine and vouch for its effectiveness to raise your energy level to healthy levels and turn around any dis-ease.
Arlene teaches Quantum Touch at TMTC to encourage healing in every massage performed at the center by professional and student alike. Client comments include "I've had a massage, but I've never had what you just did to me – I feel wonderful!") Check out what you can learn and jump into a class!
A website where you can learn more about massage careers and products.