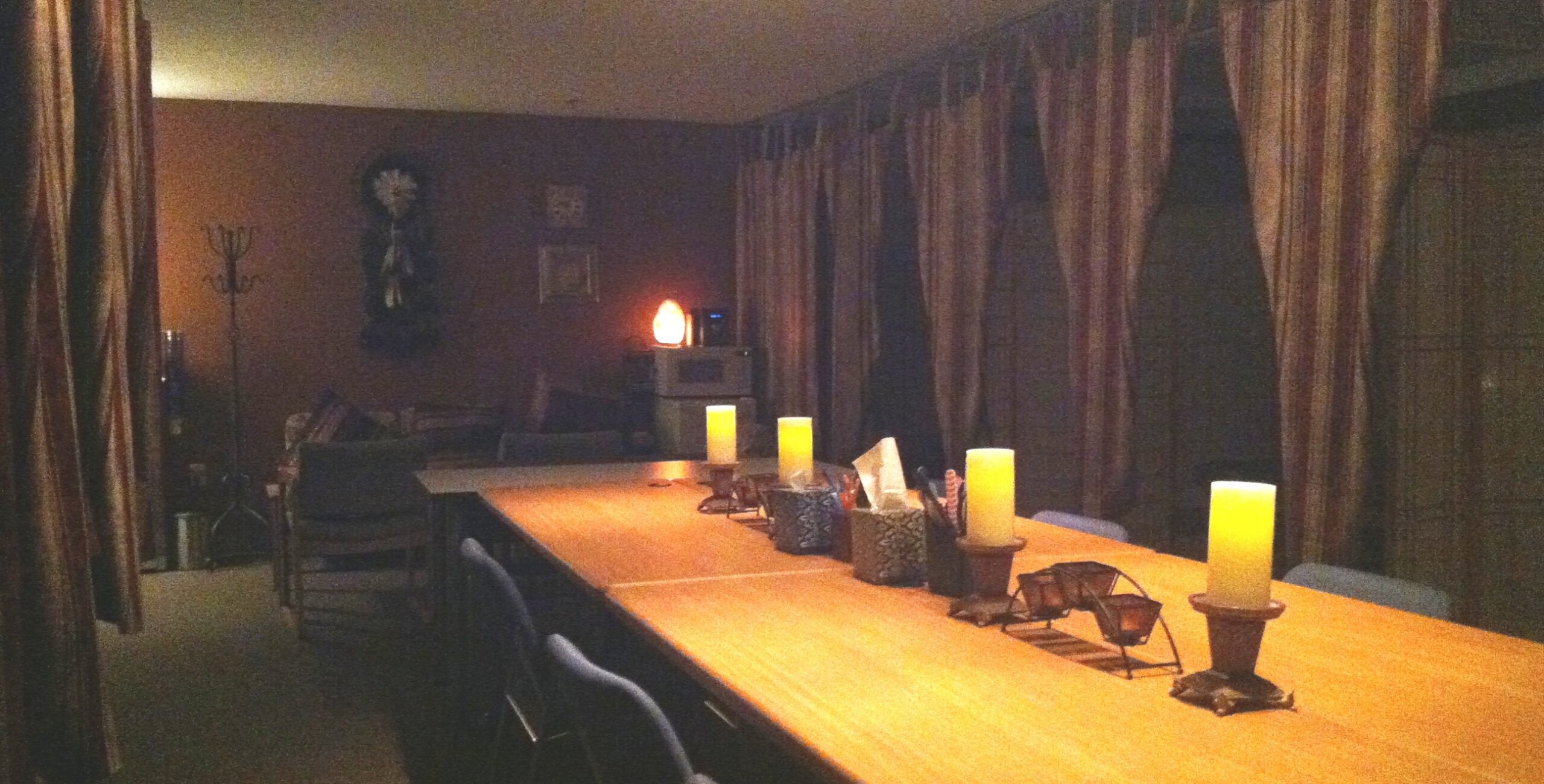 We offer several massage options to meet your individual needs.
All therapists and students are trained in deep, therapeutic massage to reduce stress and pain to allow the body and mind to heal on the physical and emotional levels. We tailor each massage to the client's need in every session. Every massage is unique to you on the day you attend.
Student Clinic Massage
At scheduled clinic dates and times:  $40 FOR 60 minutes;   $60 FOR 90 minutes
Don't let the price fool you. Our students and alumni are more effective than many experienced therapists in the field due to the extent of hands-on training they receive and intensive student-instructor coaching.
In Student Clinic, the classroom is sectioned off with curtains and dividers to provide each therapist and client with privacy. Soft music and soft lighting enhance the experience. Clients may occasionally hear some quiet conversation within the room.
Student clinic appointments fill quickly (usually two weeks in advance for evening classes).
Please see our Student Massage Calendar for availability, then call 908-789-2288 to schedule your appointment.
Alumni Massage Therapy
When available, TMTC can schedule a recent Massage Therapist graduate to perform your massage should student slots be full. These therapists have completed the TMTC program, graduated and want to continue working with clients while they move toward attaining their license. You must call in advance, as therapists are scheduled specifically for you.
At scheduled clinic dates and times where student slots are full:
$60 FOR 60 minutes; $85 FOR 90 minutes
Professional Massage Therapist
These massages are made by appointment and are performed by our school director, assistant director, school staff, or a licensed graduate with 3 or more years experience. The modalities incorporated into your massage are based on your individual needs and may include: Deep Tissue; myofascial release; neuro-muscular (Trigger Point therapy); sports massage (stretching); Thai massage; Aromatherapy; Sound Therapy (Acutonics® tuning forks); and Quantum Touch energy healing.  All these modalities are intended to promote deep healing.
A professional therapist can customize the length of your session:
1 Hour
1 Hour & 15 Minutes
1-1/2 Hours or longer
Scheduled at your convenience:
$100 FOR 60 minutes; $125 for 75 minutes; $140 FOR 90 minutes; $180 FOR 120 minutes
PLEASE NOTE:
We request you arrive 15 minutes prior to your scheduled appointment to fill-out or update your health In-take Form.
We request 24 hours advance notice in the event of cancellation.
Last appointments are set at 7:00 PM for a professional therapist.
All prices quoted above include NJ State Sales Tax.
Please shower before your massage if possible. This helps you relax and improves the therapy session.
If you have a health condition, please let us know when you call for your appointment or when you fill out your in-take form before the massage.
You cannot schedule through this calendar – Call us at 908-789-2288
Student Massage Calendar