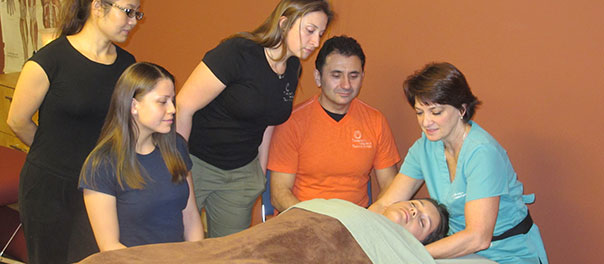 A Foundation for Your Future
The Therapeutic Massage & Training Center curriculum runs for 10 months. Classes begin the first week of March and first week of September (after Labor day). Contact the school for exact start dates.
Spring classes are held in the evening. Fall classes are offered both in the evening and daytime.
Small Class Sizes
We want students to thrive in our tradition of small classes. Our classes are kept to 16 students or less. We provide dedicated and intensive training for the hands-on portion of the curriculum to ensure students receive maximum one-on-one coaching. We pride ourselves on graduating the finest therapists in the field. Building knowledge, skill set, as well as student confidence levels throughout the program.
Hands-on education begins with the second class and continues for the entire 10-month term, through basic, intermediate and advanced techniques. In addition, students are motivated to develop their own style of touch.
Our director and instructors are always available for questions and advice, something not possible with larger classes. Students are encouraged to take advantage of private one-on-one coaching from instructors to hone their skills.
TMTC embraces holistic approaches to foster health. We promote the highest ethical standards. Students receive attentive massage training backed by years of experience.